The date: 3/20/93
The time: 0546Z
The place: The Barents Sea
The event: A little bump between the USS Grayling and a Soviet ballistic missile submarine.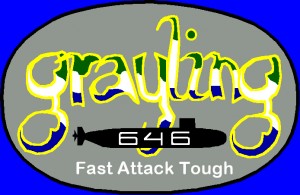 Twenty years ago today, a few of my great friends in life and I nearly became fish food off the northern coast of Russia. Those of us that were there can fill in the blanks in this heavily redacted copy of the investigation report, but then we'd have to kill you. I'm grateful for a strong boat and stronger shipmates who helped get us all back safely.
I had just gotten off watch, and I was waiting in the wardroom for my breakfast before the usual post-watch reconstruction and report writing. It was the day the real eggs ran out on board, so as the plate of fake eggs was put down in front of me there was a loud noise, the ship moved abruptly and the plate of fake eggs slid off the table. The captain cursed and ran out, followed quickly by us. All the submariners on our boat and the Soviets' boomer made it back to port safely, with what I'm sure were investigations and lengthy shipyard time on both sides. I can vouch for meeting an admiral or two and the early morning shuttle boat rides on the Cooper River (plus an encounter with a deer with driving on the Naval Weapons Stations, or Bump 2.0).
So, I'd like to salute all my shipmates, especially our recently departed friend Christopher Bates, with a little song. I invite you to join along to a song to the tune of an obscure ditty done by The Beatles.
It was twenty years ago today,
Captain Self brought the sub to play
They'd been going in the Barents Sea,
The U.S. representatives of the bourgeoisie.
So may I introduce to you
The sub filled with all these mates,
Captain Self's Only Bubblehead Band
We're Captain Self's Only Bubblehead Band,
We hope you will enjoy the show,
We're Captain Self's Only Bubblehead Band,
Sit back and let the course change go.
Captain Self's only, Captain Self's only,
Captain Self's Only Bubblehead Band.
Not so wonderful to be there,
It was certainly no drill.
You're such a bubbly audience,
We'd like to keep the dome with us,
We'd love to undent the dome.
I don't really want an emergency blow,
But I thought that you might like to know,
That Chief Singer's going to cuss real long,
And he wants you all to cuss along.
So let me introduce to you
The one and only Norm Bates!
And Captain Self's Only Bubblehead Band.